Product Description
Flowflex COVID-19 Antigen Home Test is a rapid test for the detection of SARS-CoV-2 antigens in anterior nasal specimens directly from individuals within 7 days of symptom onset or without symptoms or other epidemiological reasons to suspect COVID-19 infection. For self-testing use. For use under an Emergency Use Authorization (EUA) only.
OMICRON UPDATE:
An independent evaluation conducted by the National Institutes of Health's (NIH) RADx program has indicated that the Flowflex™ COVID-19 Antigen Home Test does detect the Omicron subvariant BA.1 and BA.2 in live clinical samples.
Clinical Performance:
The performance of Flowflex COVID-19 Antigen Home Test was established in an all-comers clinical study conducted between March 2021 and May 2021 with 172 nasal swabs self-collected or pair-collected by another study participant from 108 individual symptomatic patients (within 7 days of onset) suspected of COVID-19 and 64 asymptomatic patients. The Flowflex COVID-19 Antigen Home Test results were compared to an FDA EUA RT-PCR COVID-19 assay to determine test performance in the table below:
Flowflex COVID-19 Antigen Home Test

RT-PCR method
Positive
Negative
Total
Positive
39
0
39
Negative
3
130
133
Total
42
130
172
Positive Percent Agreement (PPA)
93% (95% CI: 81% -99%)
Negative Percent Agreement (NPA)
100% (95% CI: 97% - 100%)
Analytical Sensitivity: Limit of Detection (LoD): LoD was determined as the lowest virus concentration that was detected ≥ 95% of the time. Based on this testing, the LoD in nasal matrix was confirmed to be 2.5 x 103 TCID50/mL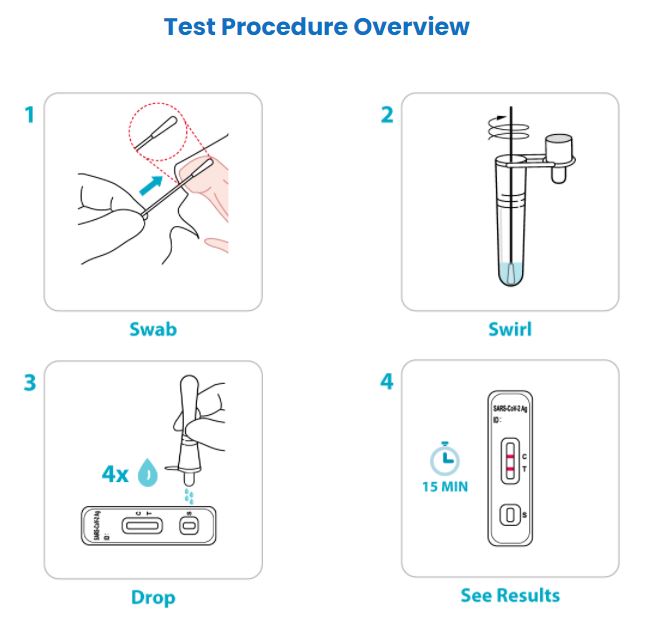 IMPORTANT: This test procedure overview does not replace the package insert. Before you begin the test, it is important to carefully read and follow the detailed instructions in the package insert. Failure to follow the instructions may result in inaccurate test results.
---
CPT Code for COVID-19: 87811QW