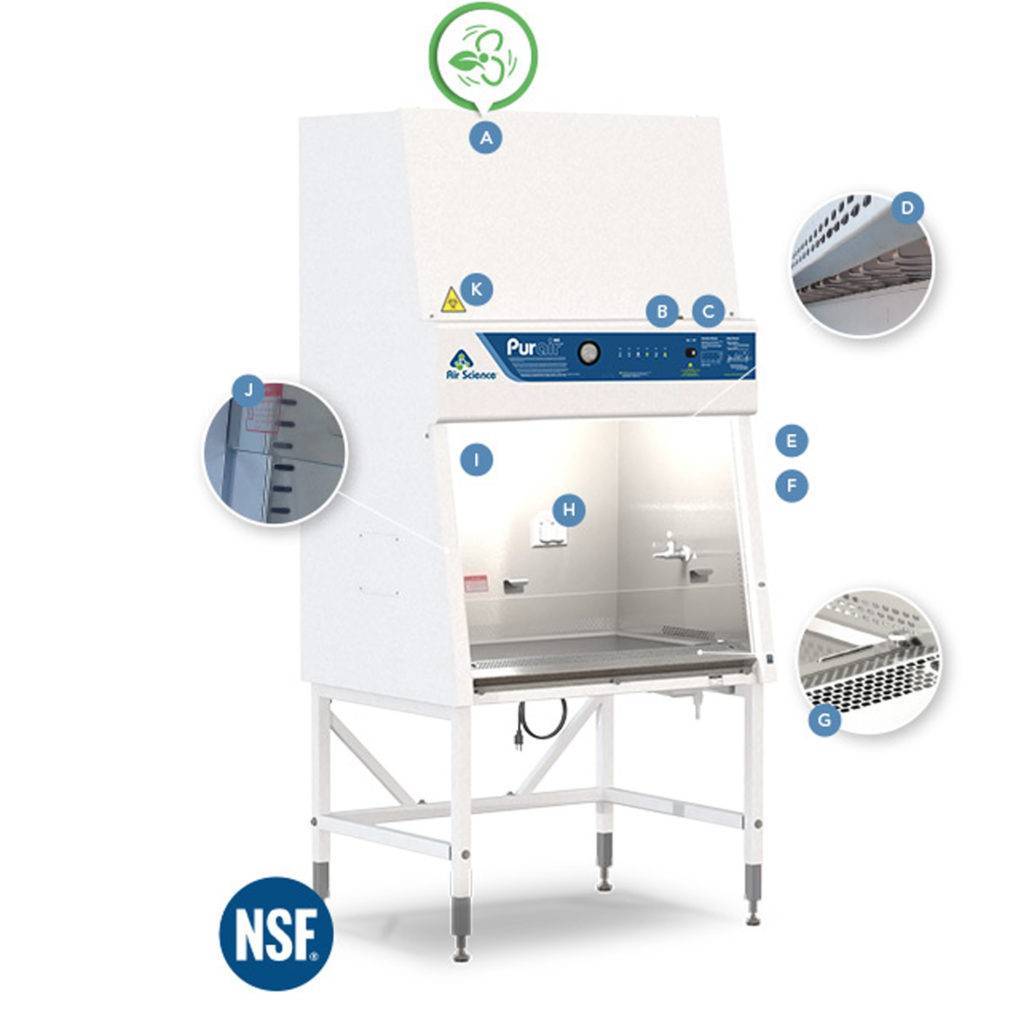 A. Energy Efficient: The quiet, internal EC Brushless DC Motor ensures sufficient airflow across the work surface at all times while saving up to 86% over traditional PSC motors (based on internal testing).
B. Standard Control System: Includes simple, reliable membrane-style switches and an easy-to-read gauge for safety and durability.
C. HEPA Filtration Lock: 
The patented Quick Access 
HEPA Filtration System
 allows filter changes to be performed from the front of the cabinet by a single person without tools.
D. Paper Catch: Protective screen located at the bottom of the rear air return plenum prevents wipes and other paper products from being drawn into the blower system.
E. Double-Wall Plenum Design: Double-wall design creates a unique plenum which surrounds contaminated areas with negative pressure, preventing the possibility of contamination from leaks in filter seal, gasket, or cabinet structure.
F. Air Velocity: The air velocity and associated correction factors are preset at the factory to meet regulatory requirements and ensure operator safety.
G. Surround Air Intake Grille: All contaminated air is enclosed in the work area. No safety dead zone.
H. Outlet: Outlets are installed in the work area to guard against electrical shock.
I. Durable Interior: The Purair BIO utilizes a heavy-gauge, one-piece liner with coved corners for enhanced durability.
J. Ergonomic Fit: The angled front, narrow-front grille, and frameless sash create an ergonomic work environment. The #304 stainless steel elbow/arm rest provides ergonomic forearm support to prevent grille blockages and improve posture.
K. Safe: Includes HEPA filters (Class H14) tested to a typical efficiency of >99.99% for 0.3 micron particles.